SupportCandy workflows offer a streamlined and automated approach to managing ticket workflows. By leveraging triggers, conditions, and actions, SupportCandy empowers you to automate various aspects of your support ticket system, enhancing efficiency and productivity. With this automation solution, you can establish rules and predefined actions that are executed based on specific events or conditions, ensuring a seamless and organized ticket management process. Whether it's assigning tickets, adding reply or private note, updating ticket status, updating ticket fields, or performing other essential tasks, SupportCandy workflows provide a customizable and intuitive way to automate your ticket workflow, saving time and improving customer satisfaction.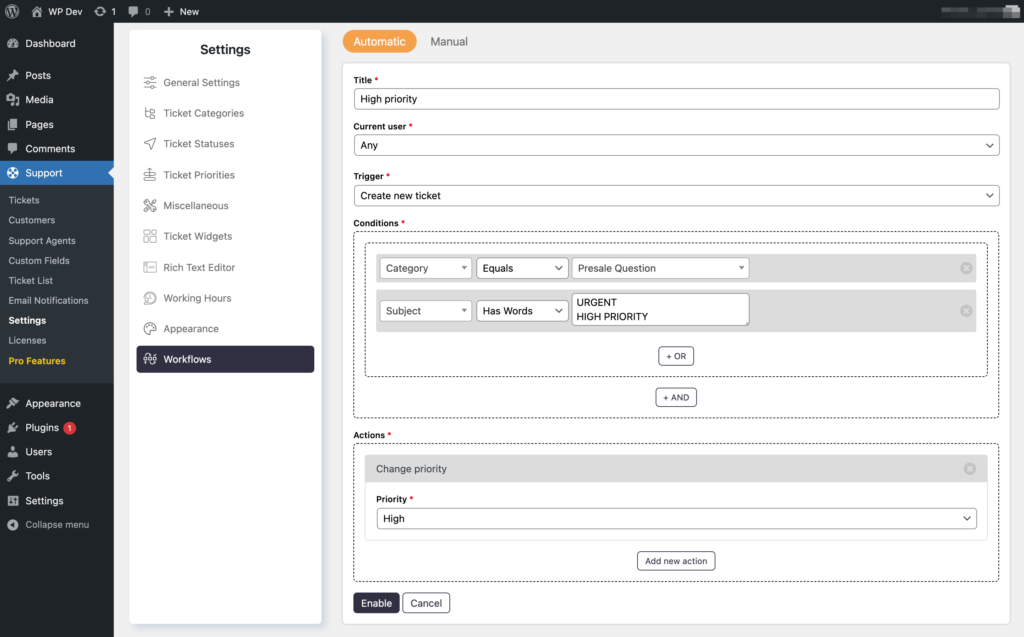 As the name suggests, the Automatic Workflows workflow operates based on system triggers, such as the creation of a new ticket or a change in status. When your set conditions are met, this workflow promptly executes the actions you have defined.
Manual workflows operate similarly to automatic workflows, but they lack predefined triggers. Instead, they introduce a new widget that displays a list of actionable workflows that align with specific conditions. This widget lets users initiate the workflows and execute the corresponding actions manually.