Introduction:
SupportCandy Add-ons & Extensions offer beneficial improvements and integrations for the well-liked SupportCandy WordPress plugin, giving organisations increased functionality and capabilities in their customer care systems. Businesses may use the wordpress ticketing system to manage customer inquiries and support requests in an efficient manner. However, organisations may further tailor their support systems, link with outside technologies, and streamline their support operations by using SupportCandy Add-ons and Extensions. We will examine the advantages and features of the SupportCandy Add-ons and Extensions in this post, enabling businesses to offer top-notch customer care on their WordPress websites.
Finding and downloading SupportCandy extensions and add-ons
Add-ons and extensions for SupportCandy may be obtained and downloaded from a number of places. Popular locations to investigate and purchase these add-ons and extensions include the SupportCandy official website and the WordPress plugin repository. Both sources provide a wide range of possibilities for enhancing and extending SupportCandy's functionality.
Enhancing SupportCandy with Add-Ons
SupportCandy add-ons are supplementary plugins that work in unison with the main plugin for the service. These add-ons offer extra capabilities and functionalities to meet certain customer support requirements. Email marketing integration, CRM connection, comprehensive reporting and analytics, and social media integration are a few of the most well-liked add-ons. Businesses may extend and customise their customer care system to meet their specific needs by integrating these add-ons.
Key advantages of SupportCandy extensions and add-ons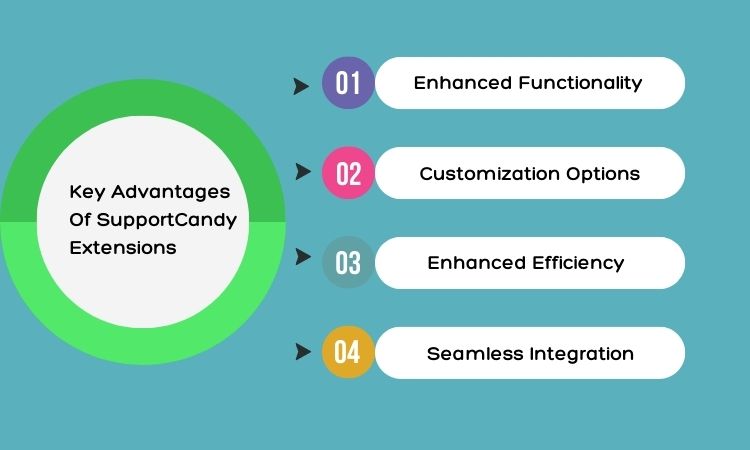 Enhanced Functionality
Enhancing the functionality of the plugin, SupportCandy add-ons and extensions provide organisations access to a greater range of tools and capabilities. These updates enable companies to provide outstanding customer assistance, from sophisticated reporting and analytics to real-time chat help and CRM interfaces.
Customization Options 
With a range of add-ons at their disposal, companies may design their support system to meet their unique needs. SupportCandy add-ons and extensions let organisations build a specialised support ecosystem that meets their needs, whether it's customising ticket data, creating distinctive email templates, or integrating with preferred communication methods.
Enhanced Efficiency
Companies may automate procedures, lessen human labour, and improve their support operations by integrating SupportCandy with other crucial products and services. This results in increased productivity, quicker turnaround times, and ultimately more customer satisfaction.
Seamless Integration
SupportCandy add-ons and extensions are made to work with the main plugin without requiring any additional code, resulting in an easy setup. These extra functionalities are simple to install and set up for businesses without interfering with their current support infrastructure.
Popular SupportCandy extensions and add-ons include
Email Marketing Integration: Integrate SupportCandy with well-known email marketing programs to send personalised emails, automate contact, and foster client connections.
CRM Integration: Connect SupportCandy to your CRM platform to sync customer data, track interactions, and present a comprehensive picture of customer support activities.
Social Media Integration: By connecting SupportCandy with social media management solutions, you can handle customer queries and support requests from social media platforms with ease.
Advanced Reporting and Analytics: With the help of these add-ons, you may get insightful information on how well your support team is performing. Keep track of important indicators, gauge consumer happiness, and pinpoint areas that require improvement.
Installing and Using SupportCandy Add-ons and Extensions 
Visit the SupportCandy website or the WordPress plugin repository to install Add-ons and Extensions for SupportCandy. Choose the add-ons or extensions you want, download them, then install them using WordPress just like any other plugin. Once installed, you can use the SupportCandy settings to activate and customise the add-ons/extensions. Each add-on or extension will have a unique collection of settings and features that you can customise and include in your support system.
Conclusion
The SupportCandy add-ons and extensions offer a great way to increase the functionality of the customer care system on your WordPress website. Businesses may improve their support operations, increase productivity, and provide outstanding client experiences by utilising these extra features. SupportCandy add-ons and extensions give a variety of choices to suit various support needs, whether it be integrating live chat, establishing a connection with CRM platforms, or automating communication through email marketing tools. Utilise these potent tools to enhance user experience on your WordPress site and improve customer support.