In the highly competitive business world of today, outstanding customer service is critical to success. Enter SupportCandy, a game-changing help desk WordPress plugin built with the goal of enhancing your customer service experience. 
SupportCandy improves the way you deal with consumer concerns with its user-friendly features as well as a successful ticket management system. This article goes into its indispensable features, emphasizing how it improves efficiency, personalization, transparency, and also data-driven insights to create an exceptionally remarkable support system.
Customer Support's Importance for Business Success
The secret to business success is exceptional customer service. It encourages consumer loyalty, promotes positive word-of-mouth, and drives repeat business. Inadequate service, on the other hand, can degrade a company's reputation, leading to customer attrition as well as unfavorable evaluations. 
Prioritizing rapid, effective, as well as personalized service is not just an option in today's highly competitive marketplace, where customer experience is crucial; it's a strategic must. 
Businesses that invest in exceptional customer service position themselves for long-term development as well as success, as happy customers become ambassadors for the brand, generating profitability and long-term sustainability.
Introducing SupportCandy: A Game-Changing Plugin
Introducing SupportCandy, the game-changing help desk WordPress plugin that is transforming customer support dynamics. It revolutionizes the user experience by communicating seamlessly with companies and clients. SupportCandy maximizes work efficiency as well as transparency with an easy ticket management system, user-friendly interface, as well as automatic notifications. 
Customizable ticket forms match specific requirements, and representative assignment assures quick inquiry response. This game-changing help desk WordPress plugin enables organizations to reach above and beyond customer service requirements, developing loyalty through tailored, data-driven interactions. Strengthen your customer service with SupportCandy and transform your road to success.
Key Characteristics of SupportCandy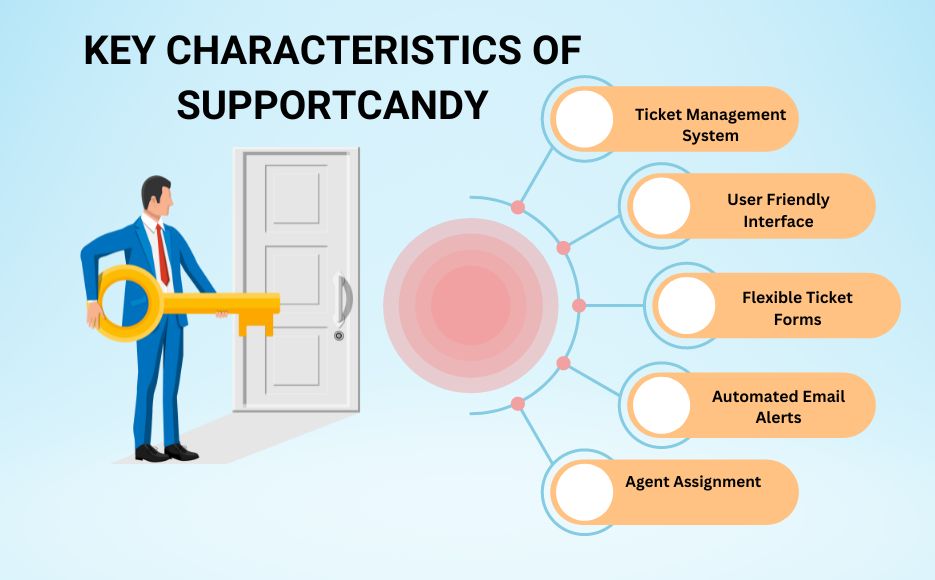 The foundation of SupportCandy is a well-organized ticket management system. You can manage and keep track of client concerns and queries effectively. Unique identities have been assigned to tickets, making it simple to organize, classify, as well as track their development. This makes certain that no client request slips through the cracks, encouraging prompt resolutions and increased client satisfaction.
Navigating sophisticated technologies may frequently impede productivity. However, SupportCandy has a user-friendly layout that appeals to both clients and support employees. 
Its user-friendly design encourages simplicity of use, enabling consumers to submit inquiries with ease as well as agents to navigate and manage tickets with ease. This user-friendly design speeds up issue-solving and improves overall support efficiency.
Every business has different needs, and SupportCandy recognizes this by providing customizable ticket forms. Businesses may customize these forms to collect particular information from clients, ensuring that critical information is collected from the beginning. This personalization creates a tailored support journey, according to each customer's unique demands.
Excellent customer service relies on effective communication. Because of its automatic email warnings, SupportCandy thrives in this arena. Customers are notified with ticket updates, answers, as well as resolutions, keeping them informed throughout the support process. Customer satisfaction and confidence are increased as a result of this real-time openness.
It is critical for an efficient resolution to assign tickets to the appropriate support agents as soon as possible. WordPress help desk ticket system SupportCandy makes this work easier by simplifying automatic agent assignments. Each ticket is sent to the most appropriate agent based on their knowledge, ensuring that client problems are handled by those most suited to resolve them.
How SupportCandy Ups the Support Level for You
The efficiency-enhancing capabilities of SupportCandy streamline your support procedures. Its user-friendly ticket management system organizes and prioritizes incoming inquiries, thus guaranteeing no customer concern is overlooked. 
Automated alerts and agent assignments save time, allowing your support staff to respond quickly and efficiently. SupportCandy frees up your employees' time to solve difficult problems along with offering great support by automating regular operations.
SupportCandy WordPress Plugin enables you to create unique, personalized experiences for consumers in a world where they seek them. Its customizable ticket forms allow you to acquire precise information from consumers ahead of time, ensuring that each engagement is tailored. 
SupportCandy helps your support agents to develop a deeper and more valuable relationship with their clients, whether by calling them by name or by addressing their individual requirements. Personalization develops loyalty as well as differentiates your business.
Transparency is the foundation of customer service trust, and the best WordPress helpdesk plugin SupportCandy shines in this area. Customers are kept up to date on the status of their tickets, from submission to resolution, thanks to automated email alerts. 
This real-time communication promotes openness as well as reassures clients that their complaints will be handled as soon as possible. Also, your support staff will benefit from increased internal transparency, as they are going to be able to readily follow the development of requests and communicate efficiently.
You are given significant data-driven insights through SupportCandy. On ticket trends, customer preferences, and agent performance, it offers thorough analytics. This information allows for well-informed decision-making and constant encouragement strategy improvement. 
You could enhance your procedures, manage resources wisely, as well as proactively deal with reoccurring problems by evaluating client habits and agent strengths. Your customer-focused support team remains continuously evolving thanks to this data-driven strategy.
Conclusion
Use SupportCandy to enhance your customer service game. This ground-breaking help desk WordPress plugin provides seamless ticket administration, user-friendly interactions, as well as individualized assistance. 
It strengthens efficiency and transparency through the use of automated warnings and efficient agent assignments. SupportCandy offers intelligent choices with its data-driven insights. Accept SupportCandy today and turn your support into a competitive edge, driving customer happiness as well as business achievement.
Read More: Why SupportCandy is the Best Customer Support Plugin for WordPress?