In order to preserve client happiness as well as loyalty in the digital era, competent and efficient customer care is essential. An effective instrument in this effort is a WordPress support ticket system, which streamlines interactions and transforms how companies respond to consumer questions. 
This article explores the crucial elements of a successful customer support system and discusses the workings of a WordPress Support Ticket System and highlights the different benefits it provides, all of which eventually increase customer happiness.
The Crucial Elements of Effective Customer Support
Prior to getting too far into the mechanics of a WordPress support ticket system it's critical to comprehend the fundamental components of efficient customer service. Customers demand prompt replies, correct solutions, as well as individualized service regardless of the industry. An effective customer support structure is centered on:
1. Timely Reactions
Customers enjoy it when their concerns are acknowledged right away. Frustration and discontent are possible outcomes of a slow answer.
2. Accurate Solutions
Correctly resolving problems the first time around shows expertise and saves time and work for all parties.
3. Knowledge
 knowledge is power, and there is nothing worse than calling a business to discuss a product or service and finding out they don't know anything about it. Give your personnel thorough training if you want to make sure you serve your clients with excellent service. Although it may seem like a significant expenditure now, it will pay off afterward.
4. Service quality
 In the end, the key component that will define your customer service is the caliber of your offerings. This does not imply that your customer support staff has to know the solution to every issue or query. 
5. Service Quality
Delivering high-quality services always begins with your workforce. To practice and improve their talents, your customer care staff should receive the appropriate training. 
What is a WordPress Support Ticket System?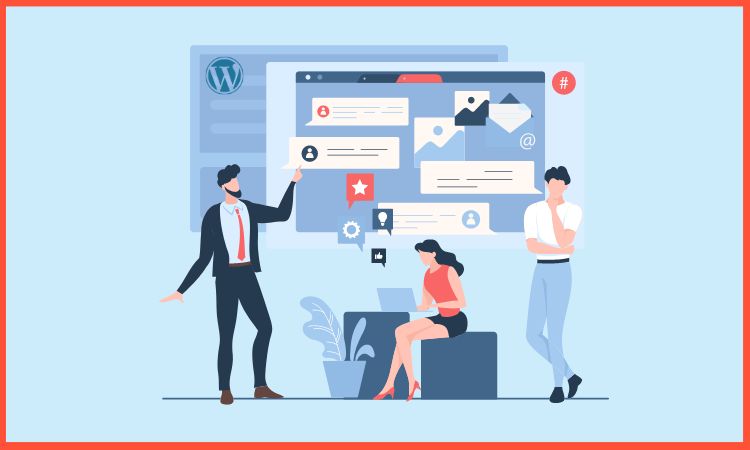 A structured system that manages customer inquiries, technical difficulties, and service requests is a WordPress support ticket system. Users may upload thorough support tickets, which are then classified, given priority, and monitored. 
By streamlining communication between clients along with assistance staff, this centralized system ensures prompt replies, clear updates, and individualized help. The technology increases customer satisfaction by accelerating problem resolution while strengthening responsibility through automation as well as interaction structure.
Efficiency Unleashed: How It Works
The framework for organized interactions lies at the heart of the system. Users that experience problems or need assistance post support complaints outlining their issues. Critical information is incorporated thanks to this organized approach, which also makes it easier for support staff to comprehend the problem precisely and promptly. The approach reduces ambiguity and aids users in clearly expressing their issues by offering a uniform template.
Prioritization and Classification
As soon as a ticket is submitted, the system automatically groups as well as ranks requests according to predetermined standards. In order to avoid delays in resolution, urgent concerns are identified as well as swiftly handled. 
A simplified process for less urgent problems is maintained while significant issues receive quick attention thanks to this prioritizing method, which also ensures that resources are being used effectively.
Information That is Centralized
Its capacity to consolidate information is one of the Support Ticket System's distinguishing features. The customer support plugin keeps track of all correspondence, revisions, and attachments pertaining to a particular ticket. 
As support staff can access a whole history of encounters, this single repository minimizes the need for consumers to repeat their problems. This facilitates cooperation among support teams, speeds up the troubleshooting process, and improves accuracy.
Through regular updates, customers are kept informed throughout the support process. Automatic alerts are given as the status of their tickets changes, from receipt as well as assignment through progress and resolution. 
In addition to lowering uncertainty and anxiety, this proactive communication shows an unwavering commitment to openness and satisfaction among customers.
Benefits Abound: Increased Customer Satisfaction
The substantial decrease in response times is one of the Support Ticket System's most obvious and immediate benefits. Incoming tickets are swiftly allocated, prioritized, and routed to the relevant support agents thanks to the organization as well as the automation of the customer service process. This successful approach ensures that consumer queries are acknowledged and resolved right away, reducing frustration and proving a dedication to prompt help.
The system's built-in documentation and openness enable increased accountability. The ticket contains a thorough and accessible history since every conversation, update, and effort at a resolution is thoroughly documented within. 
Because of their sense of responsibility, support staff members are more likely to follow through regarding problems consistently and dependably. The support procedure may be trusted since customers can be sure that their issues are being thoroughly handled.
Support representatives may provide individualized assistance catered to each customer's particular scenario by taking advantage of readily accessible consolidated information. Agents can respond with context-aware solutions that target particular demands by drawing on previous interactions and resolutions. 
This customized touch not only expedites problem-solving but also emphasizes the worth of every client, establishing a sense of valued collaboration.
Through data analysis, a support ticket system produces insightful information. Businesses can locate bottlenecks in the support process as well as recurrent trends and common problems. Decision-makers are more equipped to make informed changes and advancements thanks to this data-driven perspective. 
Businesses may proactively improve customer assistance, resulting in more efficient operations and higher customer satisfaction, by addressing core causes and improving procedures based on data.
Conclusion:
A WordPress Support Ticket System proves to be a game-changer when it comes to client happiness. Customer assistance has been simplified by its organized interactions, prioritizing tools, consolidated data, as well as regular updates. All of these features work together in order to establish a dynamic system. 
There is no denying the benefits, which include quicker reaction times, more accountability, individualized support, plus data-driven insights. Adopting the best support ticket system for WordPress is an intelligent move toward quality and effectiveness as organizations continue exploring ways that can improve customer satisfaction.